Rochdale grooming: Race 'cannot be ignored'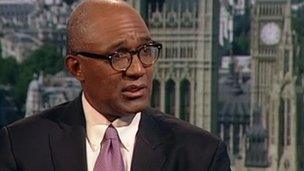 The racial ethnicity of the men involved in the sexual exploitation of children in Greater Manchester cannot be ignored, the chair of the Equalities and Human Rights Commission has said.
Trevor Phillips said it was "fatuous" to deny racial and cultural factors.
But the head of the CPS in the North West, Nazir Afzal, said it was wrong to put race at the centre of the case.
On Saturday, police said nine men have been arrested in a second sexual grooming inquiry in Rochdale.
It follows the sentencing of eight men of Pakistani origin and one from Afghanistan for their part in an unrelated grooming case in the town.
Mr Afzal, who was involved in the convictions, said: "I think, by focussing on the race, you are perhaps diverting from the reality, which is about men.
"All of these people had one thing in common, they were all men. Most of them were taxi drivers but nobody is talking about the fact that this is an issue for the taxi driver communities."
But Mr Phillips said he was worried about "closed communities" where people were afraid to speak out.
"I worry that, in those communities there were people who knew what was going on and didn't say anything, either because they're frightened or they're so separated from the rest of the communities that they think, 'oh, that's just how white people let their children carry on, we don't need to do anything'," he said.
On Wednesday nine men from Rochdale and Oldham were jailed from four to 19 years for running a child sexual exploitation ring.
They had been found guilty of offences including rape and conspiracy to engage in sexual activity with a child.
The men had targeted vulnerable girls as young as 13.
On sentencing at Liverpool Crown Court, Judge Gerald Clifton said the convicted men treated the girls "as though they were worthless and beyond respect".
Related Internet Links
The BBC is not responsible for the content of external sites.