Manchester City fans enjoy victory parade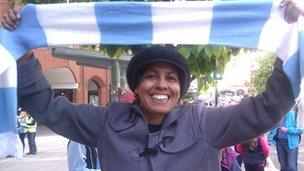 Manchester City's faithful filled the streets of the city in 2011 to celebrate their first major silverware for 35 years, and 12 months later they are out in force again.
After perhaps the most dramatic finish to a Premier League season ever, tens of thousands have turned out again with even more to cheer about.
Too often for City fans, Manchester has been a mass of red - the colour of rivals United - for the Premier League victory parade.
This year it was a sea of blue - from the thousands of scarves and banners littering the city to the stage at the Town Hall where players held the Premier League trophy aloft in front of City's jubilant fans.
The players thanked fans and swayed along with the supporters to "We are the Champions" as a host of blue and white streamers were launched.
Fans revelled in the first league victory in 44 years while they recalled their rollercoaster of emotions at the nail-biting finish 24 hours earlier when Sergio Aguero scored an injury time winner to clinch the title.
Denise Southworth, 51, said she grew up five minutes walk from City's former ground Maine Road and said she was relishing every minute.
She said: "I'm making the most of this now - I feel very privileged to have experienced this in my lifetime as very few clubs achieve this.
"I've been a fan since my mum took me to the FA Cup parade on Oxford Road in 1969 and City is part of my DNA.
"The next target is the European Cup."
Anthony Tebb from Stockport took his daughters Chloe, eight, Aimee, six, and Katie, four, to the celebrations.
He said: "I've not cried since my daughters were born but yesterday I was in the depths of despair followed by tears of happiness.
"They will progress now - they will step up another gear."
Craig Smith, 21, of Colwyn Bay in North Wales said it was an "amazing feeling" to be part of the celebrations.
"I've come to Manchester to see the champions of England.
"It would have been a massive day anyway but after all the drama at the Etihad it's even better."
Andrew Hyland took along his daughter Isabelle, eight, to cheer on the newly-crowned champions as they toured the city.
Mr Hyland, who said he went to school with the Gallagher brothers from Oasis, admitted shedding tears like Noel during Sunday's match.
"Noel and Liam are proper blues. I used to go and watch City at Maine Road with them but things have changed a bit since then.
"It was unbelievable yesterday, typical City.
"My emotions were all over the place, there were tears of desperation then so much relief when the final goal went in."
Related Internet Links
The BBC is not responsible for the content of external sites.