Manchester taxi drivers in bus lane protest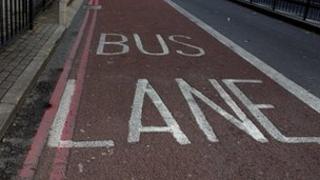 Private hire taxi drivers who claim it is unfair that they are not allowed to use bus lanes in Manchester are holding a go-slow protest through the city.
The drivers say they are discriminated against as they are not allowed to stop in the lanes to pick up or drop off, while Hackney carriage drivers are.
Up to 1,000 taxis plan to drive from the Etihad Stadium to Manchester Town Hall at 11:00 BST.
Manchester City Council said changing the rules would affect bus services.
It said the bus lanes were created to speed up journey times and reduce congestion, and opening them to private hire vehicles would encourage more motorists to use the lanes.
'Aggravating people'
Councillor Nigel Murphy, the council's executive member for the environment, said: "[Opening the bus lanes] would affect the reliability of bus services, which huge numbers of people in Manchester depend upon to get access to work, education or healthcare.
"Today's protest will do nothing but cause more congestion in the city, aggravating people who are trying to go about their business."
James Parry, a solicitor acting on behalf of the Private Hire Association, said: "We now have something like 2,500 taxi drivers in Manchester and 1,500 Hackney carriage drivers.
"Anybody who can't get a Hackney carriage, because they don't happen to have one drive past their door, has to pre-book a vehicle and they are likely to have a private hire vehicle come to their door.
"They charge more because they can't use the bus lanes so they can't for example get to Victoria Station easily or as quickly as a Hackney carriage would.
"That is discriminatory, it is unnecessary and it doesn't serve the city very well in the Private Hire Association's view."