Salford new mayor Ian Stewart has appointed his cabinet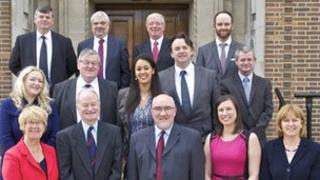 Salford's first directly-elected mayor has chosen his new deputy and cabinet of eight councillors.
The city council also announced the mayor would not be receiving a salary until an independent panel made a recommendation in July.
Labour's Ian Stewart appointed Councillor David Lancaster as his deputy.
Councillor Paula Boshell and Councillor Paul Dennett were appointed as Strategic Assistant Mayors.
As mayor, Mr Stewart has responsibility over city regeneration, economic development, business engagement and inward investment.
"We are very aware that we have a huge task ahead of us, delivering real change and benefits for the city," he said.
"But this is a challenge we are ready for and now that the team has been put together, we have started to work towards creating a brighter future for the people of Salford and their families."
The other appointed members are Derek Antrobus, Peter Connor, Bill Hinds, Gena Merrett, John Merry and Margaret Morris.
The ceremonial mayor was also announced today as Councillor Bernard Lea.