Plaque to boys killed by IRA Warrington bomb stolen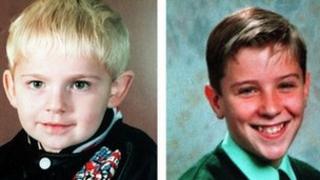 Thieves have stolen a metal plaque erected in memory of two young boys who were killed in an IRA bomb attack in Warrington, Cheshire.
Tim Parry, who was 12, and Johnathan Ball, aged three, died in 1993 when two bombs detonated in the town centre injuring 54 people.
The A3 size plaque is thought to have a scrap metal value of no more than £30.
Tim Parry's father Colin said the theft was "soulless, heartless and just very offensive".
He said: "My reaction is one of incredulity that somebody would be so heartless and without any conscience, and just calmly walk along and take something that has minimal [cash] value but huge emotional value.
'Disgusting' act
"I find it hard to get into the minds of people who would perform an act like this.
"I appreciate many people are desperate for the money and times are hard but to stoop so low and to do it without at the very least knowing what they are taking is hard to imagine. Their act is all the more disgusting for that."
The plaque forms part of the River of Life memorial on Bridge Street in Warrington, which was opened by the Duchess of Kent in 1996.
Mr Parry said: "It replicates a passage from the Bible and there is a large rock so that water comes out of it and then flows down a channel into a dome and all along the channel are words and various things to commemorate the bombing and the boys."
Urging the person or people who stole it to return it, he said: "You hope that deep down they do have some thoughts, other than the most basic thoughts that they have had at the moment that they have taken it, and if not bring it back then leave it somewhere where we would find it."
Police said the plaque had been stolen sometime between 20 April and 5 May.
Its disappearance was noticed by a council-employed town centre warden.
PC Graham Davies, of Cheshire Police, said the plaque and memorial were of "great significance to the town".
He said: "We would appeal to anyone who has any information in relation to the theft to come forward."
He said it was "upsetting" for people in the town to discover the plaque had been stolen.
"We would urge anyone who knows the identity of the thief - or the whereabouts of the plaque - to contact us immediately.
"We would also appeal to anyone who may have been offered the plaque for sale to get in touch," he said.
The Bishop of Warrington, the Rt Rev Richard Blackburn, said his prayers were with both families.
He said: "This is senseless vandalism, grieving not only the families but the whole community. I appeal to all who have any information to assist the police and help take this investigation forward.
"My prayers are with the families as they cope with this appalling news."
The two bombs exploded within a minute of each other on 20 March, 1993.
The first went off outside a Boots store and the second outside a McDonald's in an area crowded with shoppers.
The bombing caused widespread public disgust and led to Mr Parry creating the Tim Parry Johnathan Ball Trust to promote greater understanding between Britain and Ireland.
Mr Parry, who also set up the Peace Centre in Warrington, was made an OBE for his peace campaigning work.
The metal recycling industry is worth about £5.6bn and employs almost 8,000 people in the UK.
Metal theft is estimated to cost the UK economy £700m a year, with criminals targeting an increasing variety of objects.
These range from cabling, drain covers and lift panels from housing estates, to war and cemetery memorial plaques, children's playground slides and fire escape stairs.
Thefts from churches are also on the increase, with more than 2,500 being reported in 2011, a record high according to insurance company Ecclesiastical, which insures 97% of Anglican churches.
The company is now fitting alarms to some church roofs in an attempt to reduce the thefts.