Manchester City street at Maine Road to be turned blue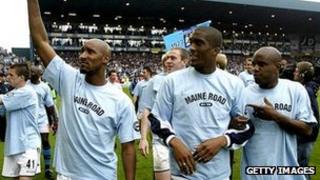 A road on the site of Manchester City's old stadium is to be coloured blue in tribute to its former residents.
Blue Moon Way, part of a development built on the site of the Maine Road ground, will be covered in blue tarmac once building is completed.
Former player Mike Summerbee said it was "a wonderful idea to help recognise the site of the old stadium".
Wayne Hale, of developers Prospect, said it was a great way of celebrating the club's recent league title win.
Manchester City won their first league title in 44 years, pipping local rivals Manchester United to the top spot in the last game of the 2011/2012 season.
The club left the Maine Road stadium for the City of Manchester stadium at Eastlands in 2003.
A range of houses have been built on the site, which has been redeveloped.
The development has many links to the club, with roads named after former City greats like flamboyant manager Malcolm Allison and fans' favourite Shaun Goater.
Blue Moon Way shares its name with the song which has become the club's unofficial theme tune and was named after a competition for local schoolchildren.
Mr Hale, the contracts manager for Prospect, said colouring the road was "a way of marking the heritage of the area and recognising that the Maine Road stadium will never be forgotten".
"I've been a Blue since I was a boy and standing on Blue Moon Way brings back cherished memories for me - I can see the alleyways I used to cut through to the back of the City ground," he said.
"I think the blue road will become a tourist attraction in its own right."