Great Manchester Run sees 40,000 athletes take part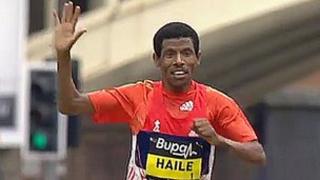 Around 40,000 elite and amateur runners have taken part in the tenth Great Manchester Run.
Ethiopian great Haile Gebrselassie won the men's race for a fifth time, while the women's race was won by Kenyan Linet Masai.
The elite wheelchair races were won by British athletes Simon Lawson and Jane Egan.
Several celebrities took part in the 10km (6.2 mile) run, including musician Peter Hook and actor Michelle Collins.
BBC Breakfast presenter Bill Turnbull and former Sunderland and Blackburn footballer Michael Gray also ran.
Gebrselassie, who won the race in 2005 and has been first for the last four years, said he "enjoyed" running in Manchester.
The run was followed by Manchester's Great CityGames, which saw Dwain Chambers competing for the first time since learning he would be eligible to compete at London 2012.
He ran in the 150m race alongside British teammate Marlon Devonish on a track laid on Deansgate, but both were beaten by America's Wallace Spearmon.
Former heptathlon world champion Jessica Ennis won her 100m hurdles race, beating American Olympic champion Dawn Harper.
British pole vaulter Holly Bleasdale also took part in the city centre event, losing out to Germany's Lisa Rysich on a specially erected track in Albert Square.