New campaign to prevent child sex grooming in Rochdale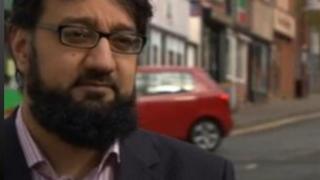 A campaign is to be launched in Rochdale to prevent the sexual grooming of teenage girls in the town.
It follows the recent jailing of nine local men who groomed and sexually assaulted vulnerable young girls.
The Rochdale Community Forum is being backed by police, community groups, the council and faith communities.
Among those attending the forum's first meeting will be the Chief Constable of Greater Manchester Peter Fahy.
Local MP Simon Danczuk said: "It is hoped that this initiative will bring something positive out of this terrible case."
Local Iman Irfan Chishti, who was one of those involved in founding the forum, said: "The more I learn about the issue of child sexual exploitation, I realised this is an extremely complex subject and it needs the whole community to fight it."
Far right protests have been held in Rochdale and neighbouring Heywood. Eight of the convicted men were of Pakistani-origin and one was an Afghan.
But the forum aims to be a source of unity for different communities in Rochdale.
It will be looking at what can be done to raise awareness of the problem and stamp it out in the borough.