Littleborough mill solvent 'explosion' injures two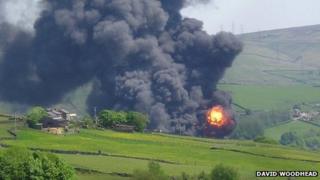 Firefighters tackling a large fire at a mill in Greater Manchester have said the blaze is now "under control".
Police said two men had been taken to hospital after reports of an explosion at Stansfield Mill in Littleborough.
A 23-year-old man with extensive injuries was airlifted to Wythenshawe Hospital and a 40-year-old is being treated at the Royal Oldham Hospital.
Silos containing solvent burned - with smoke visible two miles away on the M62 motorway.
An evacuation planned for the nearby Stansfield estate was called off, with residents near the fire told to keep all windows and doors closed.
Ten fire crews are tackling the blaze on Calderbrook Road, which started about 13:00 BST.
The fire service received more than 100 calls reporting the fire, which is about 1km from the centre of Littleborough.
'Chaos reigned'
Local resident Margaret Saxon said her house had shaken when the fire started.
She said: "I was sat in my garden talking to my neighbour and we heard something go pop. One of the tanks exploded and flames were coming into the air.
"Everyone started running off the close, chaos reigned, a lot of people were running by."
Tony Lander, from Greater Manchester Fire Service, said: "We are dealing with a fire involving a range of buildings including a silo.
"There are bitumen tanks and liquefied petroleum gases and various other chemicals involved."
They had the fire under control by about 16:00 BST but crews are likely to remain on the scene overnight dealing with the fire.
Dave Bernard, who works nearby, said he had been walking with colleagues when they had heard a big bang.
He said: "We just had to leg it as fast as we could, there was metal shooting up everywhere, I just made a run for it.
"I was very frightened for me and my work colleagues, it was a horrible moment."