'Appalling' second attack on toddler's grave in Salford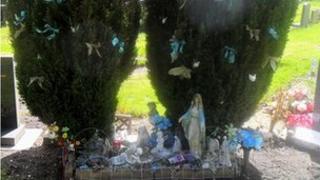 A child's grave has been vandalised for the second time in five years in Salford, police have said.
Greater Manchester Police said vandals carried out an "appalling crime" on the grave of a toddler at Peel Green Cemetery, Liverpool Rd, Eccles.
His mother visited the grave to find her son's headstone broken in half and turned upside down.
The incident happened on the day before the 11th anniversary of the boy's death.
No other grave was vandalised.
Details have just been released of the vandalism which took place the day before the anniversary of the child's death aged 15 months in 2001.
Det Con Neil Jones from Salford CID, said: "This is a truly appalling crime carried out by offenders who clearly have little regard for the distress they have caused to the family.
"The extent of the force used caused the stone headstone to break in half.
"Whoever has done this clearly has no respect for other people who have lost their loved ones."