Man dies in Manchester after 'chip pan' fire at flat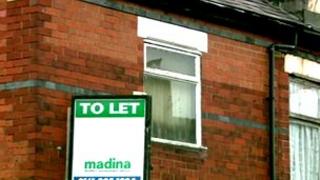 A man has died after a fire suspected to have been caused by a chip pan broke out at a flat in Manchester.
The man's relatives, who were visiting, called for help after seeing the fire in the first floor flat, above an empty shop, at about 18:30 BST on Friday.
Station commander Paul Etches, from Greater Manchester Fire Service, said the man, aged 29, had died at the scene in Reddish Lane, Gorton.
"The lack of a working smoke alarm has clearly had a major impact," he said.
"It was a tragic circumstance, the family had gone to visit the gentleman and raised the alarm.
"It's more than likely a chip pan that has been left unattended.
He added: "There are no suspicious circumstances and it does appear to be a tragic accident."