Flights 'back to normal' after Manchester Airport runs out of fuel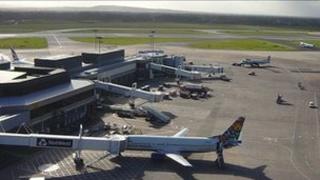 Manchester Airport has said flight operations have returned to normal after an interruption to the fuel supply on Wednesday.
The airport had problems with supplies from the Essar refinery in Cheshire.
Thirteen flights had minor delays and 17 departures made a short stop at other UK airports to top up fuel before completing the onward journey.
Operations director Chris Formby said he was grateful to passengers for their "patience and understanding".
"On behalf of the thousands of passengers travelling today and last night, we would like to thank our airline partners for the huge effort they put into contingency planning to mitigate the highly unusual problem with the fuel supply," he said.
Manchester Airport, its airlines and the fuel companies will now review the incident to mitigate any risk of disruption that might be caused by a similar incident in the future.
The airport uses about three million litres of aviation fuel a day, which is supplied via a pipeline from the complex near Ellesmere Port.