Greater Manchester drug gang members jailed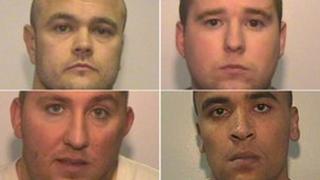 Five men behind what police described as an "organised crime group" have pleaded guilty to supplying drugs with an estimated street value of £380,000.
Liverpool Crown Court heard the men were traced after a 1kg (2.2lb) block of cocaine was seized in Stockport.
William Skillen, Lewis Thompson and Mark Anderson, all 26, and Christopher Phythian, 28, admitted supplying class A and B drugs and were jailed.
Jason Bennett, 41, also pleaded guilty and is due to be sentenced in December.
Det Insp Stephen Earnshaw, from Greater Manchester Police, said Skillen, of Ripley Close in Ancoats, had been "the head of this network and was the main man in terms of organising the collection and delivery of large amounts of drugs in both Manchester and the rest of the country".
At trial, he admitted conspiracy to supply class A drugs and two counts of conspiracy to supply class B drugs and was jailed for eight years.
'Main players unmasked'
Anderson and Thompson, both of Tutbury Street in Ancoats, pleaded guilty to conspiracy to supply class A drugs and conspiracy to supply class B drugs and were handed jail terms of five-and-a-half years and five years respectively.
Phythian, of Assheton Avenue in Droylsden, admitted conspiracy to supply class A drugs and was sentenced to three-and-a-half years in jail.
A Greater Manchester Police spokesman said police had traced a 1kg block of cocaine seized in Stockport in January 2011 back to Skillen and Thompson and worked from there to capture the men.
Thompson was later found with 2.35kg (5.1lb) of cannabis after visiting Bennett and Anderson and Phythian were stopped by police while carrying 3kg (6.6lb) of cocaine.
Skillen was the last of the five to be arrested after he was found with 3kg (6.6lb) of methylmethcathinone.
Mr Earnshaw said officers had worked hard to "unmask this organised crime group and bring the main players to justice".