Thousands turn out for Manchester Day Parade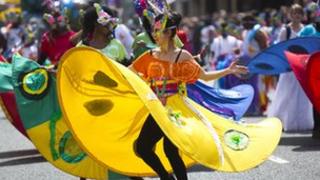 About 80,000 people have lined the streets to watch the third annual Manchester Day Parade.
The parade, which celebrates the city and its people, started in Castlefield and followed a route through Deansgate and the city centre.
Councillor Pat Karney, chair of Manchester Day, said: "The parade made the streets of Manchester come alive today. Rio has nothing on Manchester."
The procession featured giant puppets and was led by a 150-piece band.
The event was themed The Sky's The Limit: A celebration of heroic achievement.
Councillor Karney added: "It was lovely to see so many young people and families out on the streets today enjoying the spectacle.
"It makes you so proud to see Manchester celebrated like this - a day that people will remember for the rest of their lives."
Liz Pugh from artistic collective Walk the Plank, who produced the event, said: "The parade was once again magnificent and a true reflection of the diversity of the city.
"We can only do this because of the passion of everyone involved and I would like to thank all the groups and artists that took part, as they are at the heart of this wonderful event."