River Irwell PC kept dog rescue woman afloat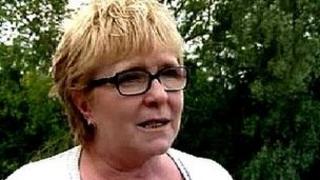 A police officer who helped a woman hang on to the side of the bank of a fast-flowing river in Salford has been praised for her "selfless heroism".
Lesley Coban fell into the River Irwell while trying to rescue her dog which had gone into the water on Saturday.
The 56-year-old was hanging on to a branch which snapped and left her clinging to some roots.
The female officer jumped in and was able to keep the woman hanging on until more help arrived.
'Beyond call of duty'
Ms Coban said the officer, who has chosen not to be identified, deserved to be commended for her bravery.
"She put her life at risk to save me, what she did was above and beyond the call of duty," she added.
Ch Insp Vinny Greener, of Greater Manchester Police, said: "I have no doubt the bravery and quick thinking of this officer prevented Lesley from being swept away by the river.
"There was heavy rain on Saturday which made the freezing cold river flow very quickly, making it a very serious hazard and the officer knew that this was a life-threatening situation."
Ms Coban, from Salford, was walking her dog Turk along the river bank in Agecroft when he fell into the river while chasing a ball.
She was up to her neck in the river clinging onto some roots when the police officer arrived.
When Ms Coban said could not hang on any longer the officer jumped in, grabbed hold of Ms Coban's hand, jammed her foot on to something underwater and held the dog walker.
The officer, who spent 10 minutes in the water, kept hold of the woman with her right hand and held onto nettles, thistles and scrub with her other hand until rescue services pulled them out.
Ms Coban, the officer and Turk were taken for treatment but did not suffer any major injuries.
Greater Manchester Fire and Rescue Service Station Manager Ian Duckworth said: "What the officer did was incredibly brave and, while we would not normally advise anyone to go into the water to attempt a rescue themselves, her actions must be commended.
"That split second decision to go in and help, without doubt, saved the woman's life."