William Turner's 1961 Coronation Street picture on show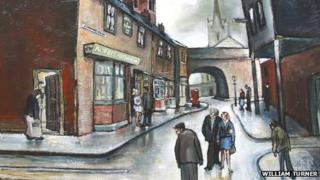 A picture of Coronation Street painted shortly after the show began has gone on display in Greater Manchester.
Artist William Turner said he "speculatively produced" the painting in 1961 hoping "it would quickly sell".
However, Coronation Street Set got no buyer, despite being offered to the programme's producer, who "didn't want it", the artist said.
The picture is part of an exhibition, which includes paintings by LS Lowry, at Hale's Clark Art Gallery.
Coronation Street was first broadcast on ITV on Friday 9 December 1960 and Mr Turner's oil painting was produced within months of that transmission, showing the original set for the programme.
The painting shows the famous terraced houses and the Rovers Return pub, despite the whole set being housed within one of broadcaster Granada's studios at the time.
The 92-year-old artist, who has been forced to give up painting because of the onset of Parkinson's Disease, was a close friend of LS Lowry.
He is the only artist to have painted a portrait of the Salford painter.
Several of Lowry's pictures, including The Ferry, South Shields and Regent Road, Lytham St Annes, have also been included in the Summer Selection exhibition.