Stepping Hill Hospital criticised over drug handling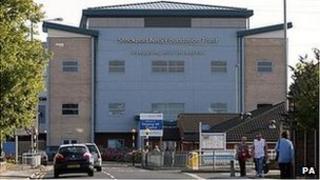 A hospital watchdog has criticised the handling of medicines at Stockport's Stepping Hill Hospital.
The Care Quality Commission (CQC) inspection found medical staff were not following drug recording, prescription and administration guidelines.
Stepping Hill remains at the centre of a investigation into saline contamination, which police believe led to the deaths of seven patients.
The hospital's trust said it was "very disappointed with the findings".
The CQC report , which followed an inspection in March, found staff did not always follow hospital guidelines on dealing with medicines.
It also reported several examples of staff not using correct information about medicines, which resulted in some "potentially serious prescribing mistakes" and issues around "several stock medicines not [being] contained in their original containers".
However, the report stated the majority of the patients that CQC inspectors had spoken to had been "happy with their care" and had had "no problems" with the management of their medication.
A spokesman for the CQC said while there were areas needing improvement, including safety of medicine storage, management issues and care of patients, they were "not at enforcement level" and merited no more than a "could try harder".
'Constantly reviewed'
The Stepping Hill spokesman said patient care was "always our top priority and we will continue working hard to provide the best possible service".
"As a pro-active organisation our services are constantly reviewed, and a number of the areas highlighted in the report were identified by us and in the process of improvement before the visit," he said.
"An action plan was also put in place immediately following the visit."
The police investigation into saline contamination at the hospital is ongoing, with officers continuing to review the poisoning of 22 patients, including seven - Tracey Arden, Arnold Lancaster, Beryl Hope, Derek Weaver, William Dickson, Linda McDonagh, and John Beeley - who subsequently died.
Nurse Victorino Chua, 46, who was arrested on suspicion of murdering three patients and causing grievous bodily harm with intent to 18 others at the hospital, was bailed in March.