Mutilated animals found dumped on Rishworth Moor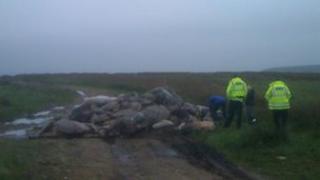 The mutilated bodies of up to 30 farm animals have been found dumped on a dirt track on Rishworth Moor, Greater Manchester.
The discovery was made shortly after 09:00 BST on a track leading to Windy Hill radio mast near Denshaw.
Telecommunications engineer Chris Barker, who discovered the pile of cows, sheep and pigs, described the scene as "sickening".
Greater Manchester Police and animal welfare officers are investigating.
It is not known how the animals died or why they were abandoned at a site not far from junction 22 of the M62 motorway.
Mr Barker, 43, from Whitefield, said some of the carcasses had been mutilated.
"It's barbaric," he said. "At first, I thought it was a huge pile of rocks and then I saw this hoof sticking up.
"It's so horrific, it doesn't seem real."