Toddler critical after Bolton house fire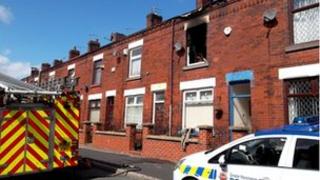 A three-year-old boy is critically ill despite being rescued by firefighters from a house fire in Bolton.
The boy was found in an upstairs room of the house on Longden Street, Halliwell, at about 18:50 BST on Monday.
A one-year-old girl was rescued from the house before fire crews arrived and was treated for minor injuries.
An investigation carried out by the police and fire service found the fire was not started deliberately.
Det Insp Denise Pye, based at Bolton, said: "It is understandable that this fire has caused some upset in the community because two young children are hurt, one of them very seriously.
"At this moment our priority is to support the family and our thoughts remain with the injured little boy.
Smoke billowing
"The fire is not believed to be deliberate. However, we are investigating the circumstances leading up to the fire.
"The investigation is in a relatively early stage so it would be extremely unhelpful for people to speculate on exactly what has happened."
Fire investigators are looking to establish who was in the house at the time of the fire and how the boy came to be injured.
Fire crews found smoke billowing from the first floor of the house when they arrived at the scene.
Four firefighters wearing breathing apparatus went in and rescued the boy from a first floor bedroom.
Firefighters treated the boy for the effects of smoke inhalation before paramedics took over. Both children were taken to Royal Bolton Hospital.
One firefighter received minor burns to his forearms during the rescue.
Anyone with information is being asked to call police in Bolton.