Bury trams disrupted by cable theft attempt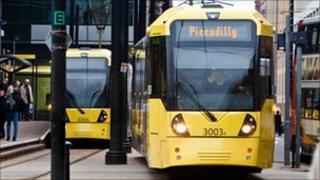 Tram services were disrupted in Greater Manchester after cable thieves damaged an overhead power line.
Buses were brought in to replace Metrolink services on the Bury line after the attempted cable theft between Heaton Park and Bowker Vale.
Transport for Greater Manchester said a 1km length of cable would now need to be repaired, reinstalled and re-calibrated before trams can run again.
The repair is expected to take the rest of the day.
The Bury line service will operate from Bury to Whitefield and Crumpsall to Piccadilly, with a replacement bus service operating between Crumpsall and Whitefield.
The incident was discovered by engineers in the early hours.
Metrolink director Philip Purdy said: "I'm sorry our passengers have had their journeys following an attempted cable theft on the Bury line.
"We'll provide buses instead of trams for as long as the repair takes and we've got extra staff out on the network to help passengers find their connections."