Alan Turing anti-homophobia award launched in Manchester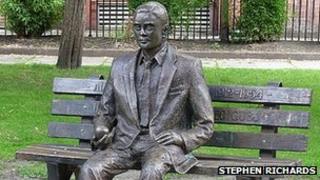 A new award celebrating people who help victims of homophobia will bear the name of computing pioneer Alan Turing.
The gay codebreaker and computer genius was convicted for indecency in 1952 and committed suicide two years later.
The honour will be given as part of the Lesbian and Gay Foundation's annual Homo Heroes Awards.
Manchester City Council's Bev Craig said he was chosen because he "was not ashamed of who he was, but he paid the ultimate price".
The LGF's chief executive Paul Martin said Turing had made "a monumental contribution to the freedom that every single one of us enjoys in the UK today".
"What makes Turing's legacy so tragic is that in the final months and years of his life, many of his own freedoms were denied to him," he said.
"He was punished because of his sexuality and had to make the humiliating choice between imprisonment or chemical castration.
"This ultimately led to him taking his own life. Had Turing been alive today, he would have rightly been celebrated as a hero."
The launch of the award is one of a series of events taking place in Manchester to celebrate the centenary of Turing's birth.
The University of Manchester is holding a four day conference celebrating his work and discussing the history and development of computer science and artificial intelligence, and a plaque paying tribute to him will be unveiled at the building where he worked.
The mathematician and cryptologist spent the last six years of his life working at the university, where he helped create the world's first computers and wrote the scientific paper which proposed the test for artificial intelligence that bears his name.