Tributes as ex-Hyndburn MP Ken Hargreaves dies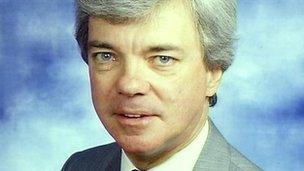 A former Lancashire Conservative MP has died after a long illness.
Ken Hargreaves, 73, represented Hyndburn from 1983 to 1992 and was a prominent Catholic and anti-abortion campaigner.
He was made an MBE in 2006 for services to the community and was recognised recently by the Pope with a Knighthood of St Gregory.
Fellow Conservative ex-MP Ann Widdecombe said he would be remembered "with huge affection".
"He was a tireless campaigner for God and the unborn," she said.
"No constituent was ever neglected no matter how trivial the problem."
Catholic peer Lord Alton of Liverpool, who served on the Parliamentary Pro-life Group with Mr Hargreaves, said: "Ken was one of those understated men, rare in politics, who had little time for vanity or ego but gave himself quietly to his causes."
John Daly, the Rt Rev Monsignor at St Mary's RC Church in Oswaldtwistle, said: "He was a great man and did a lot for the church and he did a lot in his life.
"He was highly respected in the community, nationally and internationally."
Mr Hargreaves had suffered a long illness and was being cared for at the East Lancashire Hospice.
His election to the house in 1983 for the newly-created seat of Hyndburn saw him win the marginal constituency with a majority of just 21 votes after a record-breaking six recounts lasting into the Friday afternoon.