Anuj Bidve murder trial: Accused 'tried to be all cool'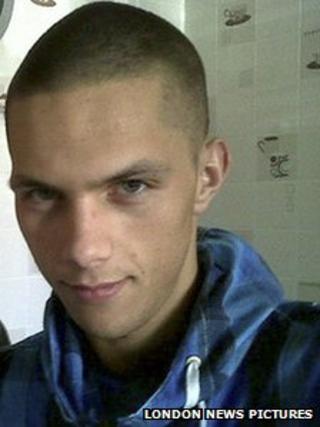 The man accused of murdering student Anuj Bidve in Salford was "trying to be all cool" before the shooting, a jury at Manchester Crown Court has heard.
The Indian student, 23, was shot in the head at close range as he walked in Ordsall Lane on 26 December.
Kiaran Stapleton, 21, admits manslaughter due to diminished responsibility but denies murder.
Jurors heard a statement by Mr Bidve's friend Anuba Gupta who said the accused approached "bouncing" like a "wannabe".
In her statement, Miss Gupta described the moment of the shooting.
"When he [Kiaran Stapleton] came across the road towards us he was like hip-hopping, sort of bouncing, trying to be all cool.
"When he walked to us it was as if he was someone who wanted to be a wannabe."
She said the stranger was "not unfriendly" as he loudly asked for the time.
When someone in the group answered, she heard a loud bang which made her ear go numb, jurors were told.
"It felt my ear had been ripped from my body."
'Everyone was scattered'
She said that after the shooting: "Everyone was scattered. Someone shouted 'Oh my God look at Anuj. He's been shot'."
The jury also heard other written statements from friends of Mr Bidve who were with him when he was shot.
Akanksha Jain said she too noticed the way the man walked towards the group.
"He was walking loosely," she said, "like when you are in a fun or good mood."
After Mr Bidve had been shot and an ambulance was called she went over to him and said to her friend: "Anuj be there, I'm there, we are all there."
But she said there was no response.
Danica Lobo described the man approaching them "pretty fast" and "confident with his walk".
"He walked with a bit of a bounce," she said. "A chalk in his walk.
"He was very confident when he was walking.
"We was not expecting anything like this... that he was just a normal guy."
Mr Bidve was taken to hospital but was pronounced dead.
The student had been walking from a hotel in Salford, where he and friends had been staying for Christmas, when he was killed.
They had been going to the sales in Manchester city centre in the early hours of Boxing Day.
Jurors have previously heard that Mr Stapleton, of Regent Square, Ordsall, ran off with another male who stayed on the opposite side of the road throughout the incident.
Mr Bidve's parents, Subhash and Yogini, have flown from their home in Pune, India, to attend the trial, which is scheduled to last up to four weeks.
They were joined in court earlier by Anuj's sister and her husband.
The trial continues.