Jamie Phillips is Halle's youngest assistant conductor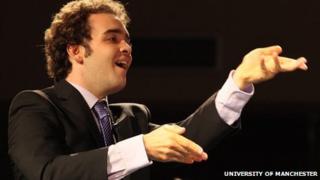 One of the UK's oldest symphony orchestras has named a 20-year-old student as its youngest ever assistant conductor.
University of Manchester undergraduate Jamie Phillips takes up the role at the city's Halle Orchestra in September.
The Birmingham-born student said he was "delighted" to be given the role.
Mr Phillips, who learned his craft at the university, will work with music director Sir Mark Elder and take charge of the Halle Youth Orchestra.
The undergraduate will take over from fellow Manchester alumnus Andrew Gourlay, who was 27 when he was appointed two years ago.
The assistant conductor role was added to the staff of the 154-year-old orchestra in 2002, when the youth ensemble was founded.
'Very privileged'
Mr Phillips' new role will see him work alongside Sir Mark with the full Halle Orchestra and act as music director and chief conductor for its younger members.
He has also been invited to conduct a concert at the 2013 Salzburg Festival, a prominent event in the classical music calendar.
In accepting the role, the 20-year-old paid tribute to his university and the Royal Northern College of Music, where he spends part of his time studying, and said they offered "unrivalled conducting opportunities".
"[Being given] the chance to have so much contact time with ensembles with the guidance of expert teaching is fundamental to developing skills required to stand in front of musicians with confidence," he said.
He added that he felt "very privileged" to be working alongside Sir Mark.
Dr Rebecca Herissone, the university's Head of Music, said the department was "absolutely delighted" to have made "such an impact internationally".
The Halle's chief executive John Summers said Mr Phillips had been "the unanimous choice of the selection panel from an extremely talented field".