Greater Manchester to develop Oyster-style travel card after £32m boost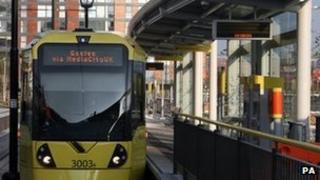 An integrated travel card, similar to London's Oyster Card system, will be developed for Greater Manchester, it has been announced.
It follows a £32.4m boost for Transport for Greater Manchester (TfGM) to fund green travel schemes in the region.
A TfGM spokesman said the money will support a programme to develop a smart card ticketing system across trains, trams and buses.
Across England, 27 schemes were given the go ahead by the Transport Minister.
The Department of Transport money will fund the Let's Get to Work scheme, designed to encourage the use of public transport and reduce congestion.
A range of other sustainable travel projects can now begin, including cycling and walking initiatives and improved traffic management.
The overall funding package for Greater Manchester has the potential to create the equivalent of 900 jobs and reduce carbon emissions by about 1,000 tonnes a year, TfGM said.
'Integrated system'
Councillor Andrew Fender, chair of the TfGM committee, said their plans will promote travel access across the expanded transport system.
He said: "We are really anxious to make progress on trying to get towards an Oyster-style card across Greater Manchester.
"It's difficult in our case, as it's difficult outside London, because of the deregulated bus system but if we can make progress and deliver that over a reasonable time scale that would be a very big boost."
He added: "We want to get more people into work, to broaden our talent pool, to reduce the burden of congestion on business, to reduce our carbon emissions and to improve the health of people in Greater Manchester."
The funding forms the third allocation from the Local Sustainable Transport Fund, announced by Norman Baker MP on Wednesday.
All the funded green travel schemes across England are also receiving contributions from the local council or the private sector.
The scheme us also receiving contributions from the local council or the private sector.