Shaw explosion: Candlelit vigil held for Jamie Heaton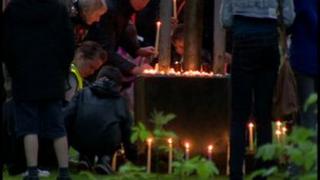 A candlelit vigil has been held to remember the two-year-old boy who died in an explosion which flattened two houses in Greater Manchester.
Jamie Heaton was killed in the blast in Buckley Street, Shaw, on Tuesday. His neighbour Andrew Partington, 27, is in hospital with severe burns.
Hundreds of people attended the vigil at St James Church on Saturday evening.
Candles were lit inside and outside the church and the congregation listened to the Eric Clapton song, Tears in Heaven.
Jamie's parents, Michelle and Kenny Heaton, have paid tribute to their "happy, loving little boy".
They described him as a "precious son" who adored his siblings Jodie and Jack.
The couple visited the scene on Friday, to look at the flowers and tributes left to their son at the edge of the police cordon.
Mrs Heaton was at home at the time of the explosion but survived as she had gone into the back yard to hang out her washing.
Sue Howarth, who organised the vigil, said: "Tonight is about Jamie, celebrating his life, and trying to show Kenny and Michelle that they're not alone."
Shaw councillor Mark Alcock attended and said the impact of the blast will be felt for years to come.
"It's really hard, you know there are lots of people in there crying now, it's such a sad time," he said.
"We've lost a little boy and the devastation and the effect it's going to have on the families around here, well it's not just now, it's going to be for years and years."
A local resident who went to pay her respects said: "We felt that it was very, very important that we came and paid tribute and showed our support."
Detectives are investigating the cause of the blast, which happened at 11:15 BST, and are waiting to question Mr Partington.
Police are at his bedside at Wythenshawe Hospital in Manchester waiting to be given the go-ahead by doctors to question him. They said he remained in a serious but stable condition.
A local man, who inspected a boiler in the house where the explosion happened, was arrested on suspicion of manslaughter and has been released on bail.
Greater Manchester Police said the man was held in London but his arrest was "only one line of inquiry".
Some 175 houses were evacuated on Tuesday but many on the outskirts of the original police cordon have now been reoccupied.
Residents have been allowed to return to all the houses on Gordon Street, and nearly 40 on Oak Street.
Oldham Council has said financial support for residents could be made available early next week.
It said it had been "overwhelmed" by donations to the hardship fund it set up.
The council has not given a total figure for the amount raised by the fund, but said household items including furniture had also been donated by the public and would be made available to those who needed them.