Anuj Bidve murder trial: Fear stopped witness 'grassing'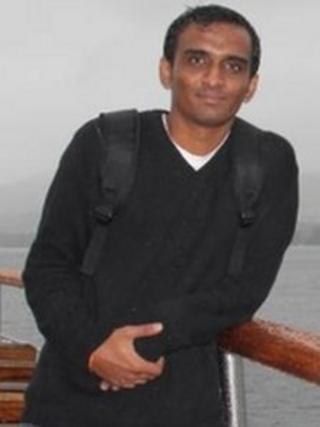 A friend of Kiaran Stapleton who was with him when he shot Anuj Bidve did not "grass" because he feared for his safety, a court has heard.
Ryan Holden, 20, said he had not gone to police after the shooting because he would have been "dead in a week".
He was arrested as a suspect following the incident, but became a witness after helping capture Mr Stapleton.
Mr Stapleton admits shooting Mr Bidve on 26 December 2011 but has denied murder at Manchester Crown Court.
Mr Holden was giving evidence for the second day, having told the court on Friday that he had been "shocked" by the attack on the Lancaster University student and had later confessed to his mother he had been at the scene of the shooting.
'Family in danger'
Questioned by Simon Csoka QC for the defence, he said he had not offered an anonymous tip-off because, "if I had done I would have been dead in a week".
He said there was "not a chance" of him being a "grass" because it would have also put his family in danger.
Mr Csoka went onto suggest that the gun which Mr Stapleton had used was actually owned by Mr Holden.
The 20-year-old, who gave evidence behind a curtain to shield him from the public gallery, said that was not the case, and that he had not even known Mr Stapleton had a weapon on him.
However, he admitted washing himself down with petrol to destroy evidence on his skin.
He said he had done this not because he had gunshot residue on him, as Mr Csoka suggested, but because his "head was gone" and he was "paranoid".
The case continues.