Manchester B of the Bang sculpture core sold for scrap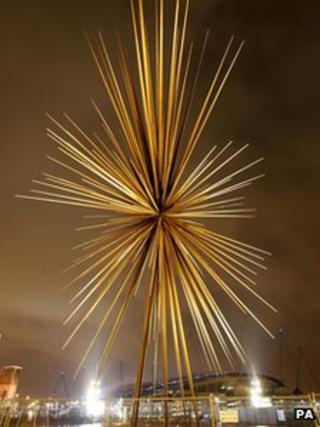 The core of a £1.4m sculpture meant to symbolise Manchester's resurgence has been sold as scrap for £17,000.
The B of the Bang, which was sited near the City of Manchester Stadium, was dismantled in 2009 after being dogged by safety issues and legal problems.
It had been commissioned to mark Manchester's Commonwealth Games in 2002 but was officially unveiled in 2005.
The council said the core of the 183ft (56m) steel structure had been sold and the spikes put in storage.
It was one of the UK's biggest public artworks when it was built but persistent problems, which included a spike falling to the floor and others being removed, led the council to successfully sue designer Thomas Heatherwick's studio and three sub-contractors for £1.7m.
A council spokesman said: "Thomas Heatherwick's B of the Bang was a magnificent artistic statement and it was regrettable that technical problems undermined that vision.
"As was widely reported in 2008, the council reached an out-of-court settlement for £1.7m with Thomas Heatherwick Studio and three sub-contractors employed by them in respect of these technical issues."
He added: "The sculpture was dismantled in 2009 and the core was recycled, with the council receiving almost £17,000 for the metal. The spikes remain in storage at no cost to the council."
The council said the spikes were being kept in a secret location for future use although it was not sure what that use could be.
The sculpture's name came from sprinter Linford Christie's comment that when starting a race he always went on the "B of the bang".
Mr Heatherwick said he was "proud of B of the Bang" and that "although there were structural issues with the project, these could have been resolved".
"At the recent opening of an exhibition of my studio's work at London's Victoria and Albert Museum that has a particular highlight on the project, the film director Danny Boyle gave the opening speech and made an impassioned plea for it to be rebuilt," he said.
"I'm still hopeful that one day we can work with the people of the city and Manchester City Council to bring the structure back."