Missing Stone Roses fan: Facebook bid to find Chris Brahney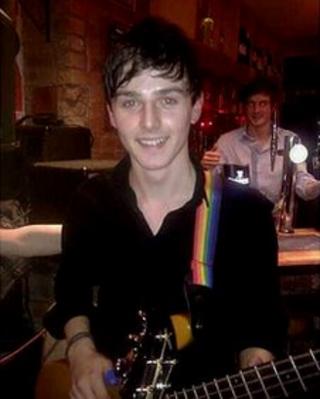 More than 48,000 people have joined a Facebook appeal to find a Stone Roses fan who went missing after the band's Friday night concert in Manchester.
Christopher Brahney, 22, from Timperley, Greater Manchester, was last seen by friends after the Heaton Park concert at 23:30 BST.
Police believe he may have used the park and ride facility at Bowlee Park, in Heywood Old Road towards Middleton.
The Stone Roses have also put an appeal to find Mr Brahney on their website.
Mr Brahney, who is white and slim with short, brown hair, was last seen wearing a dark blue top, light blue shirt, maroon trousers and green wellington boots.
Police believe he may have been seen getting off a bus at the park and ride shortly before midnight on Friday.
Coaches were travelling from the site to destinations across the UK.
'Very worried'
Detectives have previously said he had left the venue with his friends but returned to the park when he realised he had lost his mobile phone.
The Facebook page Help Find Chris Brahney shows a poster released by police and several photographs of Mr Brahney.
There are also messages from those coordinating searches of the Heaton Park and wider Greater Manchester area.
Mr Brahney's parents, Jane and Stuart Brahney, have also appealed to anyone who might have seen him to contact police.
Det Ch Insp Melani Linton said: "Christopher's family are clearly very worried about him and are desperate for any information relating to his whereabouts.
"We believe Chris may have used the park and ride facility at Bowlee Park, Heywood Old Road, Middleton. There were dozens of coaches in the car park with destinations all over the country.
"Chris could have got on one of these coaches, did you see him or speak to him?
"I would urge anyone with any information to contact the police, this could be vital to our investigation and provide some much needed answers for his family.
"Christopher, if you see or hear this appeal, we would ask that you make contact with us or your family as soon as possible."
The Stone Roses have posted an appeal for help on their website.
It said: "The Stone Roses are asking everyone who attended their show at Heaton Park on Friday June 29 to help in the search for Christopher Brahney, 22, who has gone missing after attending the show.
"Please look at his photo and try to think - did you see him at the concert or afterwards? Do you know if he used the park and ride facility? Did you see him talking to anyone?"
Information about the police appeal has also been posted on their website.