Saint John Vianney's heart starts its UK tour in Manchester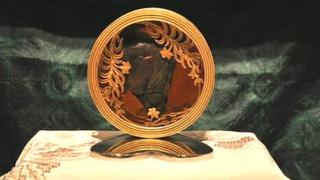 Hundreds of pilgrims are gathering in a Manchester council estate to view the encased heart of a 19th Century Roman Catholic priest.
St John Vianney is the only parish priest ever to be canonised in the Catholic Church.
Its first call is St Anthony's Church, Woodhouse Park, Wythenshawe where it will be based from 16:00 BST to 21:00.
Thousands of Catholics are expected to turn out for the relic's first ever tour on British soil.
The highlight of the Wythenshawe event is a mass for priests from the Diocese of Shrewsbury - which includes South Manchester and Stockport - who are celebrating jubilee anniversaries of their ordinations to the priesthood.
Role model
Bishop of Shrewsbury, the Rt Rev Mark Davies, who requested the relic's visit from its home in Ars, France, said the pilgrimage represented a moment to pray for fresh heart in the priesthood.
"St John Vianney shows us that any priest could do what he did in Ars by simply, completely being a priest. There is no other secret."
Saint John Vianney, who is the patron saint of parish priests, died on 4 August 1859.
He was canonised by Pope Pius XI in 1925 in recognition of his devotion to his faith as well as to his parishioners, hearing confessions for up to 17 hours a day.
Years later, Pope John XXIII proclaimed him a role model for all priests to emulate.
Earlier, the relic of his heart was flown from its specially-built chapel at the Church of Ars to Manchester Airport before arriving at St Anthony's Church.
On Friday, St John Vianney's heart will be in the Liverpool Metropolitan Cathedral on a national day of prayer for priests before moving to St Michael and All Angels Church, Birkenhead, in the evening.
Archbishop of Liverpool the Rt Rev Patrick Kelly, who is celebrating the golden jubilee of his ordination to the priesthood, will be among the preachers at the cathedral.
Saturday morning it will be in St Wilfrid's Church, Northwich, before moving to Shrewsbury Roman Catholic cathedral in the afternoon.
It will then be based in St Mary's College, Oscott, a Roman Catholic seminary in Sutton Coldfield, from Saturday evening until its departure on Monday.
In 2009, huge crowds flocked to see a casket containing the holy relics of French nun St Therese of Lisieux at cathedrals across the UK.