Anuj Bidve murder trial: Kiaran Stapleton 'shot gun and ran'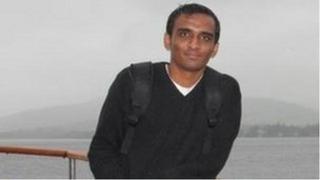 The man accused of murdering Indian student Anuj Bidve has told Manchester Crown Court that he "didn't even know where I shot the guy".
Kiaran Stapleton has admitted shooting the Lancaster University student on 26 December 2011, but denies murder.
Asked about the shooting, the 21-year-old said he had "just raised my hand, shot it and then ran".
He said he had not known he had killed Mr Bidve until "it came on the news saying a man's been shot dead".
Mr Bidve was shot while he was walking through Salford with a group of friends on his way to the sales in Manchester city centre.
'Mind went blank'
Mr Stapleton said that earlier in the evening, he had been "wound up" after finding out his former girlfriend, and mother to his daughter, had cheated on him while they were living together.
He said he had wanted to "kill" whoever was responsible, but had no idea who was.
Later, Mr Stapleton said he and Ryan Holden, his friend who has already testified at the trial, had gone to a party and, after stepping out for food, he had been handed a gun by Mr Holden.
He added that he had then seen Mr Bidve and his friends and had decided to ask them the time, and that he had not been "feeling angry and I was not feeling sad".
"It was just a normal, calm mood," he said.
Responding to questions from Simon Csoka QC defending, Mr Stapleton said he had "raised [the gun] with my right hand and then shot the firearm".
He was then asked why he had shot it, to which he replied: "I honestly don't know.
"I didn't even know where I shot the guy. I just raised my hand, I shot it and then ran."
He said that his mind "went blank" after the shooting and that he had felt "nothing" on finding out the following morning that he had killed Mr Bidve.
Teardrop tattoo
Mr Stapleton spoke about what followed the shooting, telling the court that he and Mr Holden had hidden the gun in a shed at Mr Holden's grandmother's house before returning to Ordsall.
After showering at his house, he said he had dumped his clothes next to a bin at his sister's home and gone for breakfast.
He said that after hearing Mr Bidve was dead, he returned to look at the crime scene before he and Mr Holden went to stay in Leigh with a friend
He added that he had gone to bed that night and "slept right the way through".
"I was not thinking about what I had done. I was just feeling completely normal as if nothing had even happened."
He said he had tried to consider why he had shot Mr Bidve but there were "no answers, so I just forgot about it [and] never thought about it again".
He also told the court about the teardrop tattoo he had inked on to his face two days after the shooting.
Asked by Mr Csoka as to why he got the tattoo, Mr Stapleton said his friends "suggested to me I should get a teardrop because it's a symbol that you've killed someone".
He was also asked why, at his first appearance in front of magistrates in January, he had given his name as "Psycho Stapleton".
He said it was because "that's what the police were calling me so I thought that's what I'd say".
Mr Stapleton has admitted manslaughter due to diminished responsibility, but his plea was not accepted by the Crown Prosecution Service.
The trial continues.