Chris Brahney search: Stone Roses fan's phone 'in Edinburgh'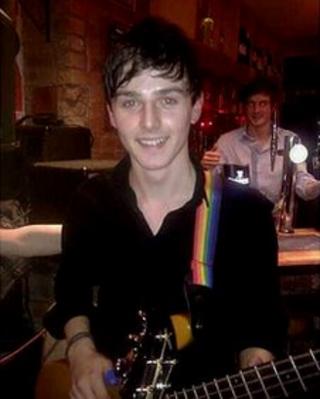 Police looking for missing Stone Roses fan Chris Brahney have said his mobile phone could be in Edinburgh.
Mr Brahney, 22, of Timperley, was last seen by friends at about 23:30 BST on Friday after he had been to the band's concert in Manchester's Heaton Park.
He left his friends when he realised he had lost his phone and said he was going back to the park to find it.
Police believe someone could have picked the phone up and are urging that person to contact them.
They are also asking people to search outhouses or on top of small buildings for any sign of Mr Brahney, in case he has tried to shelter there at night.
He is white and slim with short, brown hair and was last seen wearing a dark blue top, light blue shirt, maroon trousers and green Wellington boots.
Police believe he may have used the park-and-ride facility at Bowlee Park, in Heywood Old Road towards Middleton, shortly before midnight last Friday.
'Vital information'
Coaches were travelling from the site to destinations across the UK, and the police search has now been widened nationwide.
Mr Brahney may also have been seen outside the Maccabi Sports Centre on Bury Old Road at about 00:05 BST on Saturday.
Hundreds of people joined a rally in Manchester's Piccadilly Gardens on Thursday night, organised by his friends and family.
Many of those at the rally were among the 80,000 who have joined a Facebook appeal to find him.
Det Insp Debbie Oakes said: "We now have a number of leads that we are pursuing and, while we cannot say for sure where Chris went after he was seen by his friends, a picture is emerging of a young man who was lost, separated from his friends and trying to make his way home.
"The potential sighting near the Maccabi Sports Centre suggests that Chris could have been trying to work his way back to Heaton Park, and I would urge anyone who may have been in this area at this time to get in touch if they think they can help.
"We have also now had an indication that Chris's phone may be in Edinburgh. This is the phone that Chris was trying to find when he went missing.
"I do not want the public to jump to any conclusions as to the significance of this; at this stage all indications suggest that someone else now has this phone in their possession.
"I would urge that person to come forward. I want to reassure him or her that they are not in any trouble with the police.
"All we are interested in is what they know and they may well have information that is vital to this inquiry."