Anuj Bidve murder trial: Kiaran Stapleton 'calculating'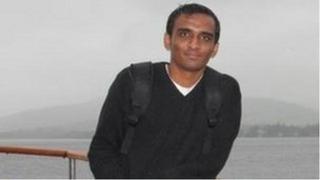 The man accused of murdering Indian student Anuj Bidve was "calculating" and "cocky", a court has been told.
Brian Cummings QC, prosecuting, said Kiaran Stapleton, 21, wanted the jury at Manchester Crown Court to believe he simply "lost control" at times.
Upon asking Mr Stapleton why he picked to target Mr Bidve in a group of people, he replied: "I can't tell you".
Mr Stapleton has admitted shooting the Lancaster University student on 26 December 2011, but denies murder.
Mr Bidve was shot in Ordsall Lane while he was walking with friends through Salford at about 01:30 BST on the way to the sales in Manchester city centre.
The prosecution pointed to three previous incidents involving Mr Stapleton, which Mr Cummings said proved he only attacked when the odds were in his favour.
With this in mind, Mr Cummings told the court Mr Bidve presented the "perfect" victim for Mr Stapleton, of Regent Square, Ordsall.
'Simple reason'
The prosecution said it was "obvious" Mr Bidve, 23, and the eight other Indian students who were with him were not local.
"You were cocky when you marched over with this gun", Mr Cummings said.
"No", Mr Stapleton replied.
"Did they not look to you like foreign students or foreign business people, smart, clean-cut, respectable?"
"No, just normal people", said Mr Stapleton.
Mr Cummings said after asking the group for the time, Mr Stapleton "almost immediately" shot Mr Bidve in the head.
The prosecutor said there was a "simple reason" Mr Bidve was the victim, as he was the last person in the group.
"It's not the way you operate, you attack from behind," Mr Cummings said.
"Thanks you for pointing that out. I will bear it in mind," Mr Stapleton replied.
'On your patch'
Mr Cummings said Mr Stapleton's "problem" was he was not brave enough to take people on, on equal terms.
He told the court: "This was perfect, absolutely perfect. You wanted to kill someone and nothing could be better than a group of foreigners on your patch.
"You shot that man and killed him, it worked like a treat and you ran off laughing?"
"That was not correct," Mr Stapleton replied.
The prosecution suggested the defendant was "quite happy" with word getting around the estate that he was responsible for the shooting, as long as the police did not have any evidence.
"Why would that make me happy?" Mr Stapleton asked.
"So you would get your reputation as a hard man", Mr Cummings replied.
"You were celebrating what you had done, having a laugh with your mates about it, enjoying their admiration as the hard man of the estate, this was what it was all about, wasn't it?"
"No," replied the defendant.
Mr Stapleton has admitted manslaughter due to diminished responsibility at a previous hearing, but his plea was not accepted by the Crown Prosecution Service.
The trial was adjourned until Monday.