DJ Mary Ann Hobbs shows on loan Banksy in Manchester gallery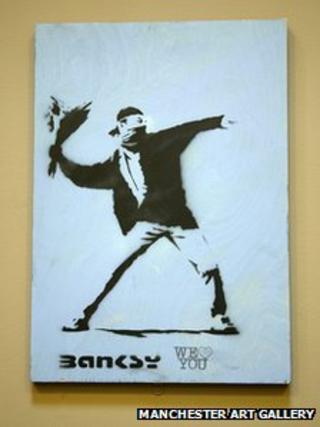 A painting by graffiti artist Banksy has gone on display in Manchester after DJ Mary Ann Hobbs loaned it to a city gallery.
Love Is In The Air, 2000 is an early version of one of the Bristol artist's most famous works, which depicts a protester throwing a bunch of flowers.
Ms Hobbs was given the work in 2000 by a interviewee on BBC Radio 1.
The DJ, who recently moved to the city, said she loaned it to Manchester Art Gallery to "inspire all who see it".
Banksy, a renowned graffiti artist who keeps his identity secret, has become well known around the world for creating surprise works in public spaces.
'Relatively unknown'
Ms Hobbs said she had been given the painting as a gift in May 2000.
"It was delivered to me live on air by Stuart Price of Les Rhythm Digitales, who came into the studios with a mob of musicians from the Wall of Sound record label to celebrate my birthday," she said.
"Banksy was then relatively unknown outside of the world of street art and was doing a little graphic design for Wall of Sound's sister label We Love You.
"This image, a prototype of what went on to become one of his most iconic designs, was used on the cover of 'We love you… so love us', the record label's first compilation album."
She added that it was "a dream to have it displayed in my new home city [and] I hope it will inspire all who see it".
The work has been put up in the entrance hall of the gallery.