Shafilea Ahmed's mother 'saw husband attack daughter'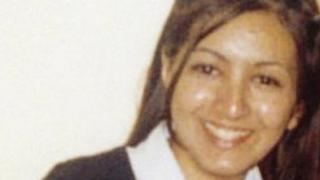 The mother of Shafilea Ahmed saw her husband attack her daughter on the night she disappeared, a court has heard.
Farzana Ahmed had previously denied seeing any attack on 11 September 2003 but has now changed her defence, the prosecution told Chester Crown Court.
Mrs Ahmed, 49, and her husband Iftikhar, 52, both deny murdering their daughter at their Warrington home.
The 17-year-old's remains were found near the River Kent, Cumbria, in 2004.
Henry Riding, prosecuting, told the jury the new defence case statement contained an admission from Mrs Ahmed that an "incident of violence" towards Shafilea did occur.
'Punched by husband'
It said Mrs Ahmed came downstairs to find her husband attacking Shafilea.
She claims she tried to intervene but was "punched with a clenched fist" and went upstairs with the other children as she was "scared".
She said she went back downstairs 20 minutes later and asked where Shafilea was.
She alleges Mr Ahmed replied: "If you care for your dear life and that of your children don't ever ask me this question again."
Her statement said she asked the same question of her husband "one or two days later".
He responded: "I have already told you once before, I don't know where she is. I have also told you not to ask me that question again."
'She was safe'
Mrs Ahmed alleged that her husband told her that if she spoke to anyone or told anyone anything that he would "do the same to our other children and to you".
The statement ends by saying she believed her husband had taken Shafilea "somewhere" and that "she was safe".
Mr Justice Roderick Evans told the court Mrs Ahmed's decision to change her defence was a "significant development in the case".
Jurors were told they would be given Mrs Ahmed's new defence statement on Tuesday.
The prosecution claims Shafilea was killed by her parents because she brought shame on the family by her desire to lead a "westernised" lifestyle.
Shafilea's sister Alesha has already told the court that she saw her parents suffocate Shafilea.