Stepping Hill contamination: More than 800 hospital staff quizzed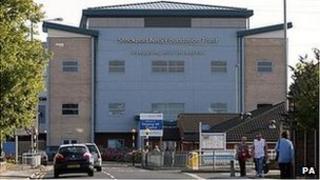 More than 800 staff members at Stepping Hill Hospital have been interviewed in the 12 months since the investigation into saline contamination began.
Twenty two people were affected by the poisoning at the Stockport hospital last summer and seven of them died.
Detectives are investigating the contamination of products with insulin between 1 June and 15 July 2011.
Two people have been arrested - one of them was released without charge and the other remains on police bail.
The investigation began after the deaths of two patients at the hospital, 44-year-old Tracey Arden on 7 July and Arnold Lancaster, 71, four days later.
Hospital staff called police after they discovered a batch of saline drips had been tampered with.
The investigation grew as the deaths of Derek Weaver, 83, Bill Dickson, 82, Linda McDonagh, 60, Jack Beeley, 73 and Beryl Hope, 70, were included.
'Good progress'
Greater Manchester Police said detectives were investigating, reviewing and analysing each of the hundreds of interactions all 22 patients had with a member of staff or visitor during their time at Stepping Hill.
The team has also gathered information relating to more than 2,300 people including patients, hospital staff and visitors.
Det Supt Simon Barraclough said: "We have set ourselves the task of understanding and proving how each person was poisoned, how and if this caused or contributed to their deaths and obviously who is responsible.
"To that end we are making good progress, but it won't be until the very end of the criminal or coronial process that these questions will be properly answered.
"Ultimately our aim is to ensure justice for all victims.
"The sheer size and complexity of this investigation is reflected in the number of inquiries that we have done, those still to do and the specialism surrounding all medical evidence and the invaluable and necessary involvement of the various experts who are supporting and assisting us."
'Deplorable act'
Judith Morris, director of nursing and midwifery at Stockport NHS Foundation Trust, said the trust was continuing to work closely with police.
"Our staff are determined that this criminal and malicious event does not overshadow the hospital's long-standing record of good care and we are grateful for the outstanding support from our community," she said.
"The police investigation may be ongoing, but we have always been clear that the deplorable act of deliberate contamination does not reflect on the good care provided by our skilled and dedicated staff.
"We will continue to work closely with the police and our additional security measures, which go above and beyond standard practice, remain in place.
"These include CCTV, two nurses for the preparation of intravenous drugs on wards and two members of staff required for access to treatment rooms in the hospital. Providing safe and high-quality care to our patients remains our highest priority".
Nurse Victorino Chua, 46, was arrested on suspicion of murdering three patients and causing grievous bodily harm with intent to 18 others at the hospital.
He was initially arrested on 5 January over the tampering of records and is due to answer bail on 10 September.
Another nurse, Rebecca Leighton, was charged with criminal damage with intent to endanger life and theft in connection with the inquiry. Charges against her were dropped in September, due to insufficient evidence.
She was later sacked after admitting stealing opiate drugs from the hospital.