Anuj Bidve killer Kiaran Stapleton 'worried psychiatrist'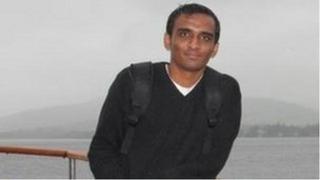 The man who shot Indian student Anuj Bidve had a "worrying" lack of feelings, a psychiatrist who has examined him told his trial.
Professor Nigel Eastman said he was "unusually" concerned interviewing Kiaran Stapleton, 21, who admits shooting Mr Bidve but denies murder.
The forensic psychiatrist told Manchester Crown Court he was rarely made anxious by prisoners, but Mr Stapleton concerned him.
Mr Bidve, 23, was killed in Salford.
The court has heard Mr Stapleton walked up to him and his friends in Ordsall, asked for the time and fired one shot to his victim's head without warning.
'No remorse'
Prof Eastman, a defence witness who interviewed Stapleton in his prison cell, told the court: "I had three officers outside, I'm long in the tooth but there was just something going on I was a bit concerned about at one point."
Mr Stapleton showed no remorse for his reactions because he did not fully understand what he had done, he said.
"This defendant did not display an ability to think about emotions. It's a little bit like someone with Aspergers, by analogy.
"It is a disability of feeling and emotion, having a language of emotion or internal language of thinking about emotions."
He added: "I have seen no evidence of any real understanding of the emotional significance of what he's done."
Prof Eastman contrasted Mr Stapleton's reaction after the killing with that of his friend Ryan Holden, who was a "gibbering wreck" after the shooting.
He added: "In the criminal world there's nothing so worrying as the nutter.
"Ordinary people you can cope with, you know how they react. Someone who doesn't seem normal is worrying because they are unpredictable."
'In own bubble'
Prof Eastman said such matters were "very difficult for lay people" and this was not a "bleeding heart commentary" but an attempt to understand the defendant's disorder.
"To most people it would seem just very odd to go up to someone, a stranger, and shoot them," he said.
"I think what he's demonstrating is his very substantial lack of ability to feel what other people feel. I don't think he has any real feeling for what he's done."
Asked if Stapleton could be faking, he said: "Most defendants I think see advantage in showing remorse, whether genuine or not.
"The other group that often don't are people who are psychotic, who have lost touch with reality."
Mr Stapleton, the fourth of nine children, was "hardly there" for the final three years of his schooling and when he did attend, his behaviour was described as "disruptive" - letting off fireworks in school, setting off fire alarms and verbally abusing teachers until he was eventually permanently excluded aged 14, the court heard.
His parents said he was not like his other siblings. "He was essentially in a bubble on his own," Prof Eastman said.
The trial resumes on Thursday.