Buckley Street: The residents' stories after Shaw blast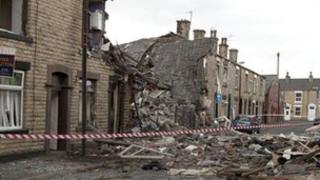 On 26 June a massive explosion devastated a large part of Buckley Street in Shaw, Oldham.
Two-year-old Jamie Heaton died when the force of the blast brought his house down around him as he watched TV.
One hundred homes were evacuated following the blast and eight have since been demolished.
Two months on, residents talk about how the explosion has affected their lives.
1 Buckley Street - The Ibbeson-Smith family
Noah Ibbeson-Smith turned eight two days after his house was blown up and his family lost everything - including his birthday presents, football trophies and toys.
On his birthday and in the weeks after the blast the family spent their evenings looking for their six cats, one of which is still missing.
Noah's mother, Ginette, said: "He was upset about his birthday, the fact that all his presents were in the house, about the cats - he lost a lot of things and when you're eight everything's important."
The house Ginette and husband Paul owned and lived in for 15 years was demolished two weeks after the explosion.
Ginette stood in a nearby street and watched as the roof was taken off, leaving her shoes scattered across the street, and her furniture was lifted out by crane and dropped to the ground, smashing to pieces.
When it came down completely, Mrs Ibbeson-Smith feared her missing cats might be inside.
"It was heartbreaking," she said.
"I didn't have anything, just the clothes I went to work that day wearing, and there were my shoes but I couldn't get to them.
"It's a sickening feeling to watch your house being demolished with all your things inside - family heirlooms, sentimental things, my wedding dress and jewellery."
Fortunately, all three were away from the house at the time of the blast. Since then, the family have stayed with friends, sometimes sleeping on sofas.
They are now waiting for their insurers to set them up in a rental house, while they sort out the purchase of a new one, and say they feel "in limbo".
9 Buckley Street - Andy Partington, his partner and five children
This is the house at the centre of the explosion.
Andrew Partington, 27, suffered severe burns and was left unconscious in Wythenshawe Hospital in Manchester as police waited by his bedside to question him.
A man who inspected the boiler of the house was arrested in London on suspicion of manslaughter. He has since been released on bail.
It is understood Mr Partington had only moved into the rented property about six weeks before the blast, with his partner Tanya Williams and five children.
Ashfaq Hussain lives round the corner and his father owns the house.
He said he oversaw a new boiler being fitted in the property before the new family moved in, adding: "We got on well with the guy.
"It's a great community here, I've lived here for 27 years and it's hit me quite hard, especially as it's my father's house, I'm distraught."
His father Iltaf Hussain said he heard the bang from his nearby shop.
He said: "You can rebuild a house, it's just such sad news about the baby.
"When I heard the bang I thought a lorry had crashed into us, then someone told me it's the house.
"I tried to go there but the house was gone, and people were just standing there looking."
11 Buckley Street - The Heaton family
Two-year-old Jamie Heaton was watching TV in his living room when he was killed by the blast.
His mother, Michelle, survived because she had stepped out into the back yard to hang out her washing.
Seconds after the blast, in nearby Oak Street, 18-year-old Jessica Bromley described hearing a woman screaming Jamie's name.
She said: "I thought the boiler had blown up, I got up and the window had been blown in and I had glass in my hair. I heard someone screaming for Jamie.
"I looked to where his house was and thought it had been bombed."
The house was flattened by the explosion, which originated next door.
After his death was announced, tributes came pouring in for Jamie and a mound of flowers and teddies built up in the street nearby.
Hundreds of people attended a candlelit vigil at St James Church days later, and his funeral almost a month after the blast.
17 Buckley Street - Attala Hatari and four friends
Attala Hatari, 27, was woken when his bed was picked up and flung against a wall by the force of the blast.
When he ran outside, Mr Hattari caught the scenes of devastation on camera.
The five Hungarian housemates, who had been living at the house for five months, have been unable to return home since that day and do not know whether they will be able to salvage any of their possessions.
All were helped by Oldham Council to find alternative rental accommodation.
"We need to get back for our letters, documents, ID, receipts and things like the TV and laptops," said Attila Csiba, who was staying at the address with partner Timea Toth.
They are hoping they will be able to replace some items if their landlord makes a claim on his insurance.
Mr Csiba said the Distress Fund had paid out £750 between the group of five, and he had spent his share on clothing, food and travel to work.
24 Buckley Street - family of Jonathan Tallents
Jonathan Tallents was visiting his girlfriend and their sons, aged one week and one year, when he heard a "god-awful bang".
He said: "Suddenly glass came flying towards our faces.
"Outside people were running past screaming, people were running towards the house to see if they could help.
"There was nothing anybody could have done.
"I grabbed the children and told my girlfriend to get out. She said 'what about my shoes'? I said 'forget your shoes' and we ran out in our bare feet."
Mr Tallents took his children to hospital to check them for glass cuts and to test whether their hearing had been affected, so loud was the explosion.
Afterwards the family stayed at Mr Tallents' home in Irlam.
Two weeks later they were allowed back into the house to assess the damage.
"Everything was covered in glass and dust - there was a shard of glass as big as my arm in the kids' ball pool.
"There's been a leak in the bathroom, a crack in the wall.
"It doesn't look like they will be able to move back for weeks or months, so we've started looking for somewhere else, but there's a shortage of rental houses in Shaw so it's a competition to find one first.
"We will need new beds, sofas, curtains and things, but we are lucky that things like toys and pictures are not damaged."
26 Buckley Street - Alexandra Legge and baby Joshua
Alexandra Legge refuses to return to the house that was her first family home with her boyfriend and their eight-month-old baby Joshua.
She said: "Structurally it's sound but I'm not moving back in.
"There are cracks and it needs a lot of work, the window frame is nearly out, but it's the thought of that little boy and the trauma."
The 18-year-old has been staying with her mum, Muriel Bolton, nearby since the blast, and trying to get on with working towards her A Levels at Crompton House School.
She was at her mum's house when the blast happened, and, despite being several streets away, the force blew the front door in.
"I thought a comet had hit," she said.
"We thought we saw smoke in the distance but it must have been brick dust. We didn't realise it was her street until later."
It was two weeks until the family was allowed back into the house, which they had moved into just six weeks previously.
Ms Legge said: "I just wanted to get back our camera with pictures of the baby, and the housewarming cards friends had sent that meant a lot."
She has since received payments from the Distress Fund, and help from the council with finding a new home and getting together another deposit and first months' rent.
28 Buckley Street - Chris Taylor and his kittens
In the immediate aftermath of the blast, Chris Taylor's concern was for his two kittens.
The 25-year-old was desperate to get back to his house to see whether they were still alive.
He said: "I was at work and got a phone call saying there had been a blast. I've got two young kittens and my first thought was for their safety so I rushed home but the cordons were up and I couldn't get anywhere near.
"I've got nothing, just the clothes on my back, and I've got no contents insurance, but luckily I do have very supportive friends.
"But everything else is bricks and mortar."
His house has since been released from the cordon.
34 Buckley Street - Jackie Hunter
Stories of blast street residents
Jackie Hunter slept on a sofa for a month after her house was rocked by the explosion.
"I actually felt my house lift," she said. "I jumped up, my front door had gone in. I grabbed my phone and ran out onto the street dialling 999.
"It seemed like a long time until they got there but it wasn't.
"I had nothing, just the clothes I was standing up in."
Ms Hunter said insurers have told her the home she owns may not be ready to move back into for months due to extensive repairs.
She has now sorted out a rental property in the meantime.
She said: "I thought it was going to be alright but now I'm told it's going to be months rather than weeks.
"It's still distressing. The residents have been scattered all over the place, the community's gone."