Fabrice Muamba gets University of Bolton honorary doctorate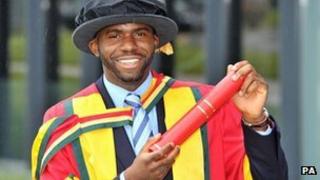 Footballer Fabrice Muamba - whose heart stopped for 78 minutes after he collapsed during a Premier League match - has received an honorary doctorate.
The Bolton Wanderers' player said he was "very humbled" to accept the award from the town's university.
The 24-year-old suffered a cardiac arrest during an FA Cup match against Tottenham Hotspur in March.
He said he had accepted the doctorate to celebrate the actions of medical staff who helped to save his life.
Muamba said: "I am very humbled to accept it (the award) on behalf of all the amazing men and women who combined to save my life, the paramedics and medical teams of Bolton Wanderers and Tottenham, ambulance personnel, and of course the consultants, doctors and nurses at The London Chest Hospital.
"My family and I owe them all so much."
'Getting stronger'
His partner Shauna was in attendance at the ceremony with their three-year-old son Joshua.
The footballer said he still did not know if he would be able to resume his professional career.
He said: "I'm getting stronger every day. I'm far away from being back on the football pitch.
"I really, really hope, by the grace of God, that I'll be back on the pitch but I'm just grateful to the university for this doctorate and I receive it on behalf of everybody who helped me to survive the cardiac arrest."
Muamba's family fled war in the Democratic Republic of Congo before seeking asylum in the UK.
Despite arriving in London aged 11 unable to speak English, he went on to achieve 10 GCSEs and three A-levels and joined Arsenal FC's youth academy in 2002 before moving to Birmingham and then Bolton in 2008.
University of Bolton Vice Chancellor Dr George Holmes said: "Fabrice is an exceptional young man in his own right and has received his honorary doctorate to celebrate and recognise the work of the teams who rushed to his aid."
Mr Muamba was given a tour of the university's Clinical Simulation Suite where students are trained to deal with cardiac arrest using computerised dummy patients.