Manchester Truth About Youth festival to challenge views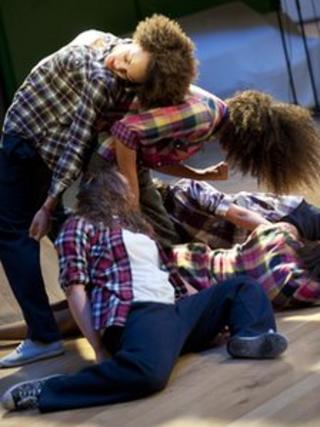 Teenagers are taking over Manchester's Royal Exchange theatre for a festival, Truth About Youth, aiming to challenge negative perceptions of young people.
The two-week event will feature theatre, music, art, comedy and workshops, and the theatre restaurant will also be run by the youngsters.
It is the culmination of a £280,000 two-year project by the theatre, funded by the Co-operative Foundation.
About 1,000 teenagers, aged 14 to 19, have been involved in its organisation.
Over the past two years the theatre has run workshops and mentoring programmes with the youngsters to give them experience of leading and managing arts projects.
The project's success means it is due to be funded for another year.
Festival producer Chris Wright said: "I don't think we do have the truth about youth and this festival is an opportunity for young people to express themselves to show us a side which I think we have a lot of misgivings about."
The festival runs from Monday 16 July until Sunday 29 July.