Anuj Bidve killer Kiaran Stapleton chose 'biggest head'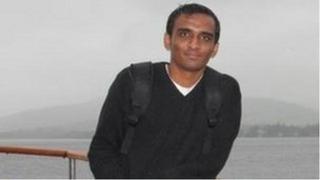 The man who shot Indian student Anuj Bidve told a psychologist he chose his victim because he had "the biggest head" in his group, a court heard.
Dr Adrian West told Manchester Crown Court defendant Kiaran Stapleton had told him in an interview the group "should have got a taxi".
Dr West said Mr Stapleton, 21, was moving "purposefully" towards the group of friends before Mr Bidve was shot.
Mr Stapleton admits shooting the 23-year-old in Salford but denies murder.
'Life upside down'
Dr West, a prosecution expert in the trial, said the defendant told him his account of the incident which took place in Ordsall Lane on 26 December.
The forensic clinical psychologist told the court he had asked Mr Stapleton why he targeted the Lancaster University student, who was walking with a group of friends.
Dr West said Mr Stapleton replied: "Only because he had the biggest head."
He told the court Mr Stapleton then told him: "I blew a hole in his head, there is nothing I can say, nothing whatsoever. They should have got a taxi, things would have been different if they had got a taxi."
Dr West said after asking Mr Stapleton, of Regent Square, Ordsall, about his own situation, he told him: "My life has just turned upside down within the click of a finger."
'Impaired empathy'
Simon Driver, junior prosecuting counsel, asked Dr West what his opinion was on Mr Stapleton's state of mind as he crossed the road to approach Mr Bidve.
Dr West replied: "I consider he moved purposefully and then he purposefully asked the time because that gave him an opportunity to have a better selection of those people in front of him."
He added Mr Stapleton's positioning and the way he fired the handgun was "purposeful" in its accuracy.
While discussing Mr Stapleton's character, Dr West told the court he did not think the defendant had a total lack of empathy, but "impaired empathy".
He said: "He is still capable of being aware of the feelings and states of other people and the effect of his actions on them".
Dr West also said he did not see Mr Stapleton as "characteristically impulsive", as he had no history of problems with possible addictions such as alcohol, drugs or gambling.
Mr Stapleton has admitted manslaughter due to diminished responsibility at a previous hearing, but his plea was not accepted by the Crown Prosecution Service.
The trial continues on Tuesday.