Lemn Sissay and children unveil poems on Old Trafford church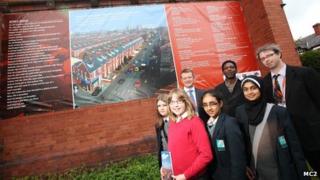 A poet whose works grace the Olympic Park and University of Manchester has unveiled a collaboration with children on a Greater Manchester church.
A banner with Lemn Sissay's Ayres Road poem alongside 13 by pupils from Stretford High School has been placed on St John's Church in Old Trafford.
The poet said it was "brilliant to be involved in such a great event".
Director of Learning Chris Hirst said he was pleased to see the children's work "valued by the local community".
Mr Hirst, who first contacted the Manchester-based poet in 2009, said he was "very excited" to see the work on the church.
"I felt that by encouraging my students to write about their local area, it would mean that they can contribute to something that they'll see every day on their way to school and that their work is actually valued by the local community," he said.
"It's a real community event, and we hope that this will bring residents and visitors to Old Trafford a lot of joy."
Mr Sissay, who received a MBE in 2010, said he was impressed by the children's work.
"The students have worked hard to create poetry that means something personal to them, and giving local people the chance to see this really helps to bring community spirit to life and demonstrate the power of poetry," he said.
"Having their verse displayed alongside mine and knowing that I inspired their work is a real privilege for me."