Faces of Egyptian mummies on show in Manchester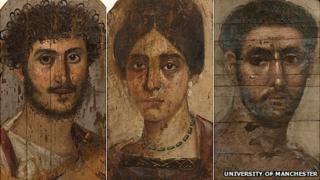 The faces of ancient Egyptians have gone on show in Manchester.
The portraits painted on to panels that covered the heads of mummies form part of an exhibition at the city's John Rylands Library.
The panels, which have rarely been shown in public, were bequeathed to Manchester Museum by cotton magnate Jesse Haworth in 1921.
The museum's Egyptology curator Campbell Price said they depicted people who looked "strikingly modern".
The paintings, known as Fayum portraits after the region near Cairo where they were found, were discovered on archaeological digs in 1888 and 1911 by William Flinders Petrie.
They date back to about AD 150, when Egypt was part of the Roman Empire.
'A rare window'
Petrie's excavations were funded by Haworth and many of his finds went on to form part of Haworth's private Egyptology collection.
Mr Price said the institution was "incredibly excited" to be showing the portraits.
"What is particularly fascinating about them is that the people portrayed by the artists often look as if they are Greek and Roman, rather than traditionally Egyptian, indicating just how much of a melting pot Egypt was 2,000 years ago," he said.
"The portraits can often be dated by their hairstyles or jewellery - showing how quickly fashions changed almost two millennia ago.
"They appear strikingly modern and grab your attention in ways traditional Egyptian mummy masks do not."
The University of Manchester's Dr Roberta Mazza, who has helped curate the exhibition, said the artefacts offered "a rare window into people's lives at a key point in Egyptian history, when Egypt was part of a wider Mediterranean world dominated by the Roman Empire".
'Forgotten history'
Papyri containing extracts of the apocryphal Gospel of Mary, the original of which has been credited by some to Mary Magdalene, and census documents are also on show.
The papyri were collected by John Rylands Library founder Enriqueta Rylands in the early years of the 20th Century.
Exhibition co-curator Professor Kate Cooper said the papers showed "a forgotten side of history".
"For example, the Gospel of Mary fragment argues that women should have a leadership role in the Christian church, a view which the medieval Church tried to suppress," she said.