Jewish community terrorist attack plan couple jailed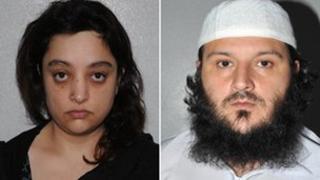 A husband and wife who planned a terror attack on a Jewish community in north-west England in an attempt to carry out "jihad at home" have been sentenced.
Mohammed Sajid Khan, of Oldham, who had admitted terrorism charges, was given an indeterminate sentence, with a minimum of seven-and-a-half years.
His wife Shasta, who was convicted at Manchester Crown Court on Thursday of terror charges, was jailed for eight.
A cache of terror-related material was found at the couple's home last July.
'Potentially deadly attack'
It included beheading videos, propaganda glorifying Osama bin Laden and bomb-making guides.
Passing sentence, Mr Justice Wilkie told Khan he was "a significant risk" to the public and had been a "committed Islamic extremist".
He added: "Your preparations were serious and well advanced over a broad front so that, if undisturbed, I am satisfied that before too long you would have been in a position to launch a potentially deadly attack."
Khan, an unemployed car valeter, had a history of previous convictions and has previously spent time in jail for violent offences, the hearing was told.
The judge added: "Unhappily, by virtue of your previous criminal record, you are plainly a man who has proved capable of using violence."
Khan pleaded guilty to engaging in conduct in preparation for acts of terrorism. The judge then told his wife she was rightly convicted by the jury as she played "an active part in the plot" and was "aware the house was awash with extremist Islamic propaganda".
'Viable explosive device'
"You had become, under the influence of your husband, a devoted Jihadist motivated by extremist Islamist beliefs," he said.
His wife, who denied terrorism charges, was found guilty of engaging in preparation for terrorism and two counts of possessing information useful for terrorism.
She was cleared of a charge of possessing information useful for committing or preparing for an act of terrorism.
Det Ch Supt Anthony Mole said: "Mohammed Sajid Khan and his wife Shasta devised a plot to acquire the ingredients, equipment and the know-how to build a viable explosive device.
"Armed with that knowledge, what we recovered from their home suggested they were in the preparatory stages of assembling that device and, disturbingly, were driving around Jewish communities in the Manchester area looking at possible targets."