Hyde company fined over worker's 40ft death plunge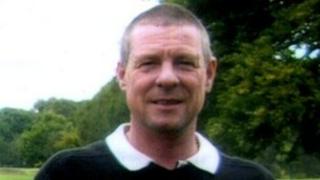 A company has been fined nearly £500,000 over the death of a worker who fell more than 40ft (12m) from a factory roof in Greater Manchester.
Lion Steel Equipment Ltd, admitted corporate manslaughter over the death of Steven Berry, 45, at its factory in Hyde, on 29 May 2008.
The firm was fined £480,000, to be paid over four years with £84,000 costs.
It was the second prosecution since the introduction of the Corporate Manslaughter Act in 2008.
Three directors of the company, Kevin Palliser, 59, Richard Vaughan Williams, 42, and Graham Coupe, 59, who were charged with manslaughter by gross negligence, were found not guilty earlier in the case.
Mr Berry worked as a maintenance worker at the company, in Johnsonbrook Road, which produces steel cabinets and shelving.
Greater Manchester Police, which carried out a joint investigation with the Health and Safety Executive (HSE), said Mr Berry fell through a perspex sheet in a roof he was trying to fix and landed on a stone floor.
The investigation found that Lion Steel never offered health and safety training to Mr Berry and it also emerged that considerable sections of the roof were fragile.
'Utter disregard'
No risk assessment was made to any employee working on the roof, the investigation found.
Mr Berry's widow Hilary said: "Lion Steel's complete and utter disregard for the laws that were there to keep my husband safe means that my daughters no longer have a father and I now face life without the person who was by my side for over 20 years."
Det Insp Dave Loughlin said: "Throughout the investigation we found signs of considerable neglect and apathy with respect to health and safety."
HSE Inspector David Norton said: "The risks from working at height are well known, with hundreds of people killed or seriously injured in British workplaces every year.
"Yet Lion Steel regularly allowed employees onto the roof without any thought for their safety."
Speaking after the case, the company's lawyer Steffan Groch, of law firm DWF law firm, said: "In setting a fine 20% lower than that recommended by the sentencing guidelines, we note that the judge has accepted the company had a good safety record and reflected upon the potential effect of a large fine."