G4S probes Old Trafford security guard pay demo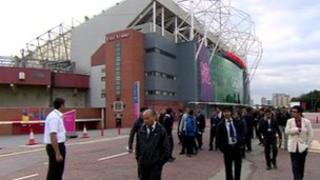 About 40 security guards have staged a protest outside Manchester United's Old Trafford stadium claiming they have not been paid since 6 June.
The guards, who demonstrated on Friday night, said they have not received cash from London-based firm Arete Securex.
The workers said they blamed G4S, as Arete Securex were sub-contractors of the company.
A G4S spokesman said payment issues were now being resolved. Arete Securex was unavailable for comment.
'Security not compromised'
Staff who were shouting "we want to get paid" during the protest claim they were offered work until September at £8.50 an hour but so far they have not received any cash.
A spokesman for the workers said: "Some people have come from London and paid for three months advance rent."
A G4S spokesman said in a statement: "There have been some issues around the Arete workforce being paid on time by their management.
"G4S has taken this up this up with Arete who are now resolving this issue with their workforce.
"G4S is pleased that these issues have been resolved and will ensure that the Arete workforce are paid in full as soon as possible."
The company added security of Old Trafford had not been compromised by the demonstration.