CCTV image of Manchester Midland Hotel arson suspect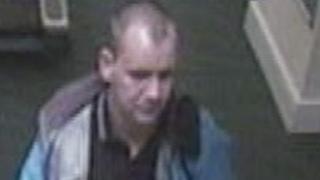 Police have released CCTV footage of a man wanted in connection with a suspected arson attack at a Manchester hotel.
Emergency services were called to the Midland Hotel, Peter Street, at 13:10 BST on Saturday, after a cleaner's trolley was set alight.
Police said the fire caused significant damage to a storage area and it was "sheer luck" no-one was injured.
Witnesses or anyone who recognises the man are asked to step forward.
Det Sgt Shagufta Khan said: "The alarm was activated and the fire was brought under control before it had chance to spread.
"There were dozens of people in the hotel on Saturday and the consequence of this malicious arson attack could have been fatal.
"My officers and I are taking this extremely seriously and we are doing everything we can to find those responsible."