Sahar Daftary inquest: Model's ultimatum to 'husband'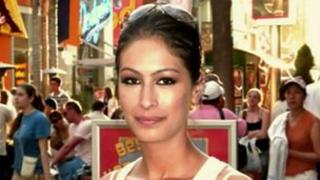 A model who died after falling from a block of flats wanted the man she married in an Islamic ceremony to leave his wife, an inquest was told.
Sahar Daftary, from Brentford, west London, fell from Rashid Jamil's apartment on the 12th floor of the NV Buildings, Salford, in December 2008.
Bolton Coroner's Court heard Mr Jamil told police in an interview that Ms Daftary gave him an ultimatum.
Ms Daftary, 23, was a former winner of the Face of Asia beauty competition.
She had lived with her mother in London after leaving Mr Jamil two weeks after their 2007 Islamic wedding, which has no legal status in the UK.
In his police interview, Mr Jamil, who was cleared of any involvement in her death, said he had picked her up from a fashion show and they went back to the apartment he rented on Salford Quays.
Mr Jamil told police she gave him an ultimatum to leave his wife and family as she smoked a cigarette on the balcony of his apartment.
"I gave her my answer: 'I can't leave my wife and children,'" he said.
Mr Jamil said the model asked him "can you live without me" and he responded, "it will be hard but life goes on".
He returned to the lounge where he heard Ms Daftary say behind him: "'Rash, remember what you said, life goes on" before hearing a scream and with that she jumped off the balcony.
In his statement, he said he ran down the stairs to the lift to find Ms Daftary on the floor outside and he begged people at the scene for help.
Attempts to resuscitate her failed.
He accompanied Ms Daftary to hospital, where he was arrested on suspicion of murder.
The hearing continues.