Trafford General A&E closure plans put to public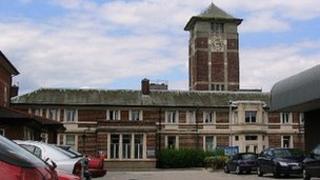 A Greater Manchester hospital's plan to save £19m by closing some services, including its A&E department, is being put out to public consultation.
Trafford General Hospital officials said no change was "not an option" as current services cost too much.
The hospital said the service needed to adapt to falling numbers of emergency patients and rising demand for community care.
But campaigners have warned changes would "put lives at risk".
A petition against the plans has attracted 9,000 signatures and 1,000 people attended a rally earlier in July.
'Massive downgrading'
Matthew Finnegan, chairman of campaign group Save Trafford General, said: "People will face longer journeys to other hospitals, which are already over capacity.
"About 38,000 people a year use the A&E, where will they all go?
"This is a massive downgrading of services, it's taking a gamble with people's lives and health."
NHS Trafford said low patient numbers meant it could not continue to provide intensive care, emergency surgery and some more serious operations.
The A&E department would close between midnight and 08:00 and patients would instead have to go to Salford Royal, Manchester Royal Infirmary or Wythenshawe hospitals.
'Specific health needs'
During the day it would be replaced by an urgent care centre, which would be downgraded to a nursing service for minor illnesses and injuries within three years.
The paediatric unit would also close.
The scheme would involve investing in a new orthopaedic centre, which would see specialist surgery transferred from Manchester Royal Infirmary.
More care will take place in community venues such as clinics and GP surgeries, rather than hospitals.
Dr George Kissen, NHS Trafford medical director and senior local GP, said: "A new integrated care system would enable us to build a local NHS that is developed around the specific health needs of our residents - one that increases the capacity and capability of our current district and community nursing teams."
The public consultation runs until 31 October.
A final decision will be made later in 2012 and if the plans are given the go-ahead, changes will begin early in 2013.