Anuj Bidve's father says family is 'lost' without him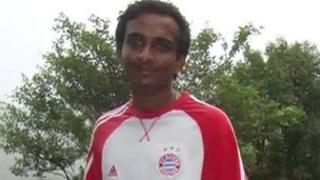 The father of murdered Indian student Anuj Bidve has said his family's "whole world was lost" when they heard he had died.
Speaking after Kiaran Stapleton was jailed for Anuj's murder, Subhash Bidve said he and his wife Yogini had been left "shattered" by his death.
Mr Bidve said it was "very difficult without him, because he was such a lovely son".
He said he was "relieved and satisfied" with Stapleton's conviction.
Stapleton was jailed for life on Friday, with a minimum term of 30 years, for the murder on 26 December 2011.
'Very difficult'
Mr and Mrs Bidve travelled from India for the trial of their son's killer and were in court every day.
Mr Bidve said it had been "very difficult" to face Stapleton on a daily basis.
"It took almost five weeks - that is a long time sitting in the court, hearing how he killed him, what was going through his mind when he killed him and what his intentions were.
"It was very, very difficult every day, sitting and hoping that [Anuj] would get justice."
He said Stapleton was "a bad man, a cruel man" who was "hopeless to society".
"He has no right to live in society with good people. He deserves to be in prison."
'Certain satisfaction'
However, he said he had not felt anger towards Stapleton while listening to evidence, but had "felt pity on him because I knew he was digging his own grave".
He said he and his wife had been in court every day "because we thought it was our duty to be there and see that that man got punished and Anuj got justice".
"Seeing for ourselves that Anuj got justice brought a certain satisfaction for us."
Mr Bidve said one of the most difficult days of the trial had been 18 July, which would have been Anuj's 24th birthday.
He said his family had the tradition of wishing each other happy birthday at midnight, so he and his wife "couldn't sleep all night".
"In the morning, we got some flowers and a card and went to where Anuj was killed.
"We placed the flowers, said some prayers and shed some tears and then went to court. It was very difficult."
'An angel'
He said life had been hard for his family without Anuj, "because he was such a lovely son".
"He was very obedient, very disciplined, very clever, brilliant - and God took him away from us. It's very difficult to live without him.
"He was such a beautiful son, an angel. When something happened in the family, he was there always to support.
"He was such a lovely boy. He never fought with anyone and never said 'I did not like this and that'."
Asked about why Anuj had travelled to England to study, Mr Bidve said the family had chosen the country "because it is very safe and so many Indians are here".
"If you walk in the streets of the UK, you find any number of Indian people who are happy," he said.
"So it was unbelievable. He was only here for three months.
"He had very few days in England and that was his destiny."